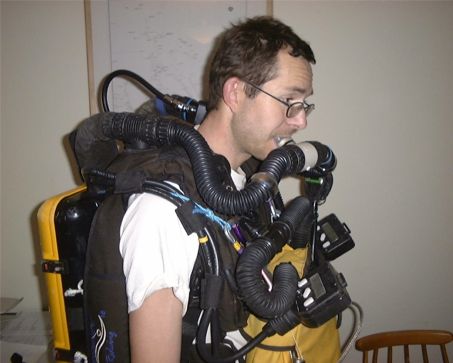 John with his weird re-breather stuff
Ok, so it's been awhile since I've posted a blog entry, mainly because it's been pretty quite and also because secretly I've not had much to talk about since my failure at the UTMB CCC in late August. In fact I didn't even write up a race report as I was so annoyed at dropping out at mile 18; by not writing a report, it clearly didn't happen, right?
Anyway, now there is something else to talk about, a new challenge and certainly my biggest yet. This weekend I will attempt my first 100 mile event called the Winter 100. I'm mentally prepared for this to hurt big style, as well as tax me mentally but only time will tell how much it will really hurt. The weather looks awful but I know lots of people completing the event as well as the volunteers around the place, who I know will spur me along, including the Ultra Chicken himself.
If that wasn't enough, I've also got two good friends coming along for the ride. They both offered to pace a 25 mile section with me; in fact they almost insisted upon it. I'm sure most runners find it hard to find pacers willing to put themselves out and give up a perfectly good weekend to run 25 miles in the muddy, wet English countryside. Not I! I've got them queuing up around the corner to offer their services, although I think it's fair to say, they all want to see me suffer more than they want to help me cross the finish line.
The Ginger Princess
I'm excited and apprehensive about what tomorrow will bring.
So what happens when an ex-fatty, a caveman and a ginger princess head off to run 100 miles? Well you'll have to come back next week to find out!
Oh and if I don't make it through this weekends exploits, please do not believe anything Tim Lambert writes about me. He is a compulsive liar and holds some kind of grudge over me after I wrote an honest and open account on the experiences of pacing him through his first 100 miler earlier this year. Some would say I was too honest but what would they know, they probably all vote for the Liberal party.